South Island New Zealand Est. 2004
Professional Fly Fishing Guide Jake Berry
Get the most from your precious time in this fly fishing paradise that surrounds Wanaka and the South Island.
Advanced bookings are essential to ensure that you secure your opportunity to experience world-class fly fishing in New Zealand, and to avoid the disappointment of guide unavailability. Jake is booked out 12 months in advance, especially for the months of January through to April. If your preferred dates are not available Jake will endeavour to book you with one of his professional guides from Southern Rivers Fly Fishing. When travelling to New Zealand for your dream fly fishing adventure don't leave things too chance.
Trophy Trout / Pristine Wilderness Rivers / Adventure
women on the fly
South Island New Zealand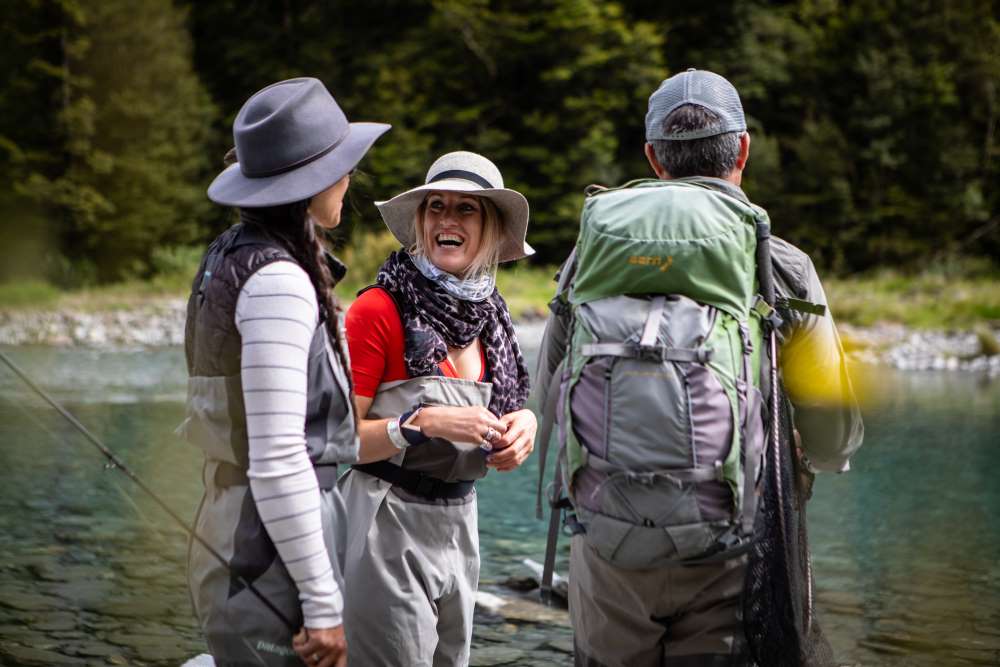 Experience New Zealand's premier women's fly fishing adventure with Southern Rivers Fly Fishing. This unique and exciting 3 day/4 night adventure is specifically designed for women who seek out just the right balance between luxury and adventure. This is an experience best shared with friends and will leave you feeling completely exhilarated and highly accomplished. Fly fishing is just the excuse you need to see amazing places with amazing people…  

My vision for all fly fishing guests of Southern Rivers Fly Fishing is to continually find those memorable experiences that people take home with them and share with others. I believe that everybody has a different ideal experience but a very similar desire, to catch and hunt the wild trophy trout of New Zealand's South Island.
As a professional fly fishing guide I adopt a very adaptable nature due to the diverse range of clientele and the extremely changeable conditions we face in the outdoors of the South Island. With strong communication lines between guide and guest I ensure a refined yet flexible experience for all involved. If the situation needs to be changed I offer honest alternatives for the fisherman whilst engaging in strong communication of their preferences in the situation at hand.
Southern Rivers Fly Fishing culture is to aid fly fishing guests through a smooth exposure to our way of life in the New Zealand outdoors and our methods of fly fishing. This is achieved through being a highly experienced and well-educated guide who maintains a friendly and relaxed attitude with strong elements of safety, reliability, flexibility and trust.
Thank you and I look forward to showing you around the South Island and New Zealand's finest trout fishing waters.
JAKE BERRY
Your Professional New Zealand Fly Fishing Guide

My highest recommendation to Jake Berry of Southern Rivers Guided Fly Fishing! During February 2010 I fished with him several times, including a heli trip across the Southern Alps to the remote west of the South Island. I have fly fished for more than 35 years in the western United States and once for a couple of months in Patagonia, Argentina; but never have I had a finer fly fishing experience. Jake showed me the special tricks needed to find and catch the magnificent trout in those spectacularly beautiful rivers. Unforgettable are the many brown and rainbow trout we caught (all more than 4 pounds), Jake's infectious enthusiasm, or the great fun we had!
Jake Berry is an outstanding fly fishing guide with all of the attributes of a "kiwi guide" who are the best in the trout fishing world. He has the most important ability to see fish, to sight and spot a trout and point it out (most US anglers have not developed the skill to sight trout in moving water). He is really fun to fish with and has the perfect personality for a guide. He does it all and very well. I have fished all over the world and fished in New Zealand many times over the past 25 years (and with Jake on repeat occasions) to experience the unique kiwi style of sight fishing for trout. I am confident in giving Jake Berry my highest recommendation to fellow fly fishers who want to experience trout fishing "kiwi style".
I have been fly fishing all over the world for 50 years. Jake is the best guide I have ever fished with. He spots trout even I can't see and unerringly guides you into a rise nearly every time. My wife and I caught scores of healthy browns averaging over 6 lbs and rainbows at around 4 lbs. Largest browns on dry flies were about ten pounds. We are coming back.
Jake is truly an inspiring and almost freakishly intuitive fly fishing guide - so much so that I now refer to him as the Trout Whisperer! I spent a day out on the river with him and it was unlike any fishing I have ever done - challenging, exciting and crammed full of lessons (he is also endlessly patient). I cannot recommend Jake's experience enough - he knows the water, he knows the fish and he is a good bloke as well.
What an amazing day and what a way to end it with a hog of a trout. Thanks so much for a real NZ adventure.